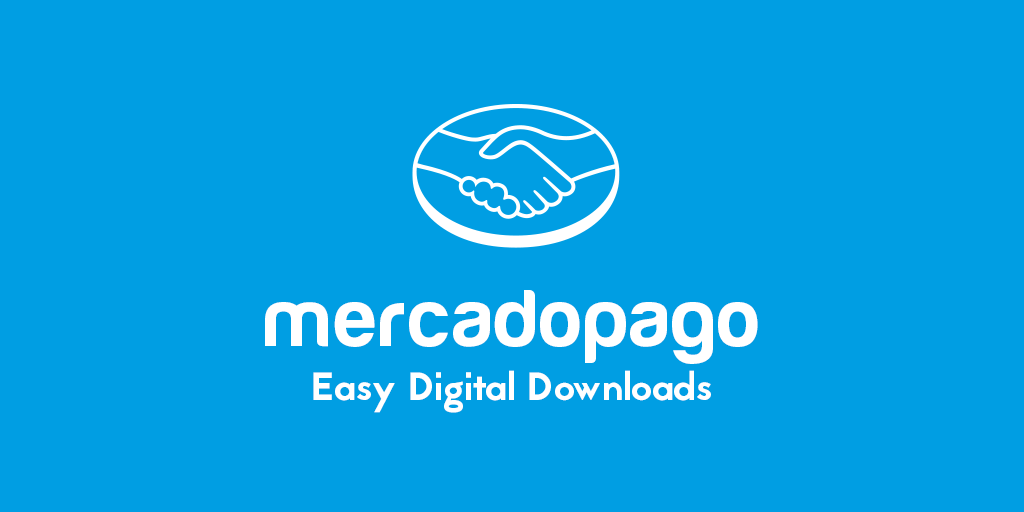 MercadoPago is a payment gateway for many Central and South America countries.
This add-on for Easy Digital Downloads WordPress plugin will allow you to process payments through your MercadoPago account. Allows you to obtain the customers payments easily, faster and safely with the allowed methods into your Mercado Pago Account.
Support IPN ( Instant Payment Notifications ) on Basic Checkouts and WebHooks on Custom Checkouts for payment updates.
We are in no way related with MP. We only use their fabulous services offered for Central and South America countries.
MercadoPago protects the information that circulates from any device to the MercadoPago server, that is, it circulates in an encrypted way in order to meet the highest online security standards of today.
Basic Checkout
Pay directly from MercadoPago, allows you to make payments in cash with available balance in the account, Pago Fácil and Rapipago. Also debit cards, credit cards and up to 2 credit cards. Compatible for EDD Software Licenses with manual payments.
Custom Checkout
Make instant payments with credit cards through a form included on the same website. Compatible are EDD Software Licenses and EDD Recurring for automatic payment subscriptions, only with credit or debit cards.
Secure payments
MercadoPago protects the customer information that circulates from any device to the MercadoPago server.
Recurring payments
Compatible with EDD Recurring to make automated charges for products to customers on a regular basis, through the Custom Checkout.
Currency Conversion
Currency Conversions automatically managed by MercadoPago exchange rates. You can sell using the same currency as in MercadoPago or using a different currency in your store, during the buying process, the conversion will be done automatically.
Mixed Checkouts
You could configure both, Basic and Custom checkouts from Mercado Pago as diferent Payment Gateways for EDD at the same time. This will allow your customers to pay with money in their MP accounts or make subscriptions with credit cards allowed by MP.
Make refunds from Mercado Pago
With Basic Checkout you're allowed to make refunds from Mercado Pago account and stay in sync with their EDD payment status.
Settings Page
Allows to configure API Key for the checkout types, and useful links for access to MercadoPago tutorials for test cards and creation of test users, etc.
Please note and consider the following BEFORE BUY:
DON'T BUYWarranty and Disclaimer.Limitation of Liability.
For testing purposes or if you have doubts.
Once you bought you have access to download the plugin, then the money IS NOT refundable.
Read Refunds and other policies at our Terms and Conditions.
You're not paying for technical support or the program itself.
You will have access to updates for an year for single site license. Yearly renewal until cancelled.
You can see all features that you are buying at above.
We can make some tests in your website if you need to know that works.
You can ask any question by creating a ticket at Support Page.
THERE IS NOT WARRANTY THAT: (A) THE OPERATION OF THE SOFTWARE OR HARDWARE WILL BE UNINTERRUPTED OR ERROR-FREE OR THAT FUNCTIONS CONTAINED IN THE SOFTWARE WILL OPERATE IN COMBINATIONS OF SOFTWARE OR HARDWARE THAT MAY BE SELECTED FOR USE BY YOU; (B) THE SOFTWARE WILL MEET YOUR REQUIREMENTS OR EXPECTATIONS; OR (C) ANY RESULTS, OUTPUT, OR DATA PROVIDED THROUGH OR GENERATED BY THE SOFTWARE WILL BE ACCURATE, UP-TO-DATE, COMPLETE OR RELIABLE. EXCEPT AS EXPRESSLY STATED IN THIS SECTION, TO THE MAXIMUM EXTENT PERMITTED BY LAW.
I SPECIFICALLY DISCLAIMS ALL OTHER WARRANTIES, EXPRESS OR IMPLIED, ORAL OR WRITTEN, ARISING BY LAW OR OTHERWISE, RELATING TO THIS AGREEMENT AND THE SOFTWARE AND ANY SERVICES PROVIDED TO YOU, INCLUDING WITHOUT LIMITATION, ANY IMPLIED WARRANTIES OF MERCHANTABILITY, FITNESS FOR A PARTICULAR PURPOSE, TITLE AND NONINFRINGEMENT OF THIRD PARTY RIGHTS.
Copyright Infringements
The use of use WPeMatico, the Full Content add-on, and any other products or services provided by Etruel to infringe the intellectual property rights of third parties is prohibited;
Users may be liable for copyright infringement if they use WPeMatico, the Full Content add-on, and any other products or services provided by Etruel to copy, reproduce, or republish content for which they do not have a valid license.
IN NO EVENT, I OR THE SOFTWARE WILL BE LIABLE FOR ANY INDIRECT, SPECIAL, INCIDENTAL OR CONSEQUENTIAL DAMAGES, HOWEVER CAUSED, WHETHER FOR BREACH OF CONTRACT, NEGLIGENCE OR OTHERWISE, AND REGARDLESS OF WHETHER HAS BEEN ADVISED OF THE POSSIBILITY OF THOSE DAMAGES, INCLUDING WITHOUT LIMITATION, THE USE OR INABILITY TO USE THE SOFTWARE, OR ANY RESULTS OBTAINED FROM OR THROUGH THE SOFTWARE.