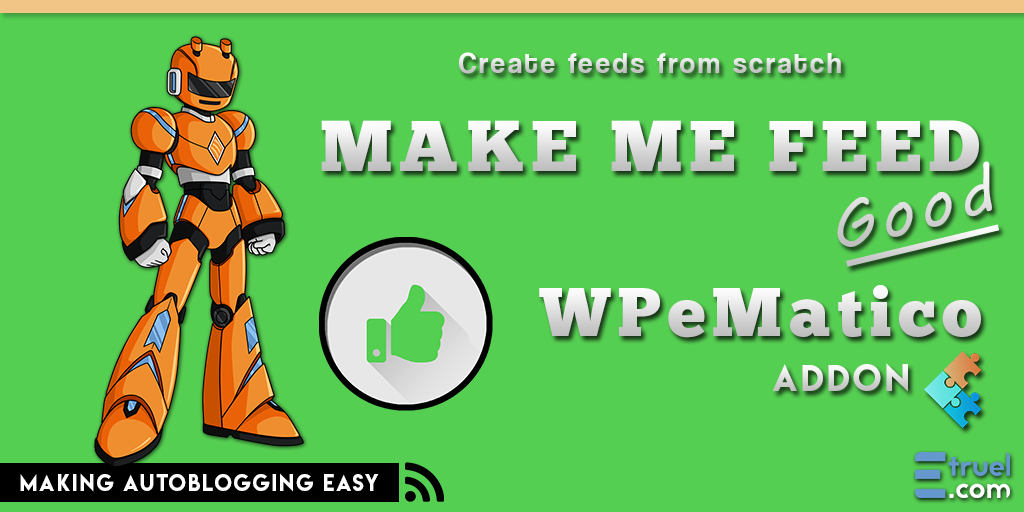 Addon for WPeMatico that allows to create RSS 2.0 feeds with content from external sites on your WordPress blog, regardless of whether or not those have their own feed.
Why should you use Make Me Feed addon?
Create as many RSS 2.0 feeds as you want from sites that do not have one!
Make Me Feed its a feed creator, configurable addon for WPeMatico that allows to create feed RSS 2.0 with content from external sites and save them to your WordPress site so you can use it in as many WPeMatico campaigns as you want.
RSS 2.0 Feed Creator
Fully configurable RSS 2.0 feed creator for external pages, you can set the content of the feed items using CSS selectors of DOM elements such as Classes or IDs.
Feeds from different websites
Allows to create unlimited pages of feeds from different sites as any Custom post type of WordPress with own template.
Feed template customized
Possibility to copy the template to your WordPress theme directory to edit whatever you want.
Feeds listed by assigned name
Like any other WordPress post type you will have a list of all the feeds you have created.
Feed Protection
Allows to making private feeds, to see them only if you are logged in on the site.
Max items in the feed
An option in each feed to indicate the maximum number of items that you want to.
Use CSS selectors
By using CSS selectors such as classes or IDs in the DOM document you can indicate where to get the link and title for the feed items.
Works under WordPress standards
It follows the standards of WordPress editing and code. If you know how to upload a post in WordPress, this is even easier.
---
Works with Full Content
Option to indicate to work with
Full Content
addon to extract the full contents and place it on each item in the feed. If the addon is not installed, will get the permanent links with the titles of the main page.
Parses the links
Parses the links of relative URLs to follow the correct permalink, also in the full content for hyperlinks and images URLs.
It is the perfect complement for WPeMatico together with the Full Content addon.
By combining their features you will be able to assign to the feed items the full content of each article and also its featured images obtained from the tags from the source site.
By the way, if you want another format like atom, the feed obtained can be modified by editing a template file.
All features are working on almost all servers. Try WPeMatico FREE Version to be sure before buy.
PHP 5.6+
WordPress.
mbstring PHP Extension.
Please note and consider the following BEFORE BUY:
DON'T BUYWarranty and Disclaimer.Limitation of Liability.
For testing purposes or if you have doubts.
Once you bought you have access to download the plugin, then the money IS NOT refundable.
Read Refunds and other policies at our Terms and Conditions.
You're not paying for technical support or the program itself.
You will have access to updates for an year for single site license. Yearly renewal until cancelled.
You can see all features that you are buying at above.
We can make some tests in your website if you need to know that works.
You can ask any question by creating a ticket at Support Page.
THERE IS NOT WARRANTY THAT: (A) THE OPERATION OF THE SOFTWARE OR HARDWARE WILL BE UNINTERRUPTED OR ERROR-FREE OR THAT FUNCTIONS CONTAINED IN THE SOFTWARE WILL OPERATE IN COMBINATIONS OF SOFTWARE OR HARDWARE THAT MAY BE SELECTED FOR USE BY YOU; (B) THE SOFTWARE WILL MEET YOUR REQUIREMENTS OR EXPECTATIONS; OR (C) ANY RESULTS, OUTPUT, OR DATA PROVIDED THROUGH OR GENERATED BY THE SOFTWARE WILL BE ACCURATE, UP-TO-DATE, COMPLETE OR RELIABLE. EXCEPT AS EXPRESSLY STATED IN THIS SECTION, TO THE MAXIMUM EXTENT PERMITTED BY LAW.
I SPECIFICALLY DISCLAIMS ALL OTHER WARRANTIES, EXPRESS OR IMPLIED, ORAL OR WRITTEN, ARISING BY LAW OR OTHERWISE, RELATING TO THIS AGREEMENT AND THE SOFTWARE AND ANY SERVICES PROVIDED TO YOU, INCLUDING WITHOUT LIMITATION, ANY IMPLIED WARRANTIES OF MERCHANTABILITY, FITNESS FOR A PARTICULAR PURPOSE, TITLE AND NONINFRINGEMENT OF THIRD PARTY RIGHTS.
Copyright Infringements
The use of use WPeMatico, the Full Content add-on, and any other products or services provided by Etruel to infringe the intellectual property rights of third parties is prohibited;
Users may be liable for copyright infringement if they use WPeMatico, the Full Content add-on, and any other products or services provided by Etruel to copy, reproduce, or republish content for which they do not have a valid license.
IN NO EVENT, I OR THE SOFTWARE WILL BE LIABLE FOR ANY INDIRECT, SPECIAL, INCIDENTAL OR CONSEQUENTIAL DAMAGES, HOWEVER CAUSED, WHETHER FOR BREACH OF CONTRACT, NEGLIGENCE OR OTHERWISE, AND REGARDLESS OF WHETHER HAS BEEN ADVISED OF THE POSSIBILITY OF THOSE DAMAGES, INCLUDING WITHOUT LIMITATION, THE USE OR INABILITY TO USE THE SOFTWARE, OR ANY RESULTS OBTAINED FROM OR THROUGH THE SOFTWARE.