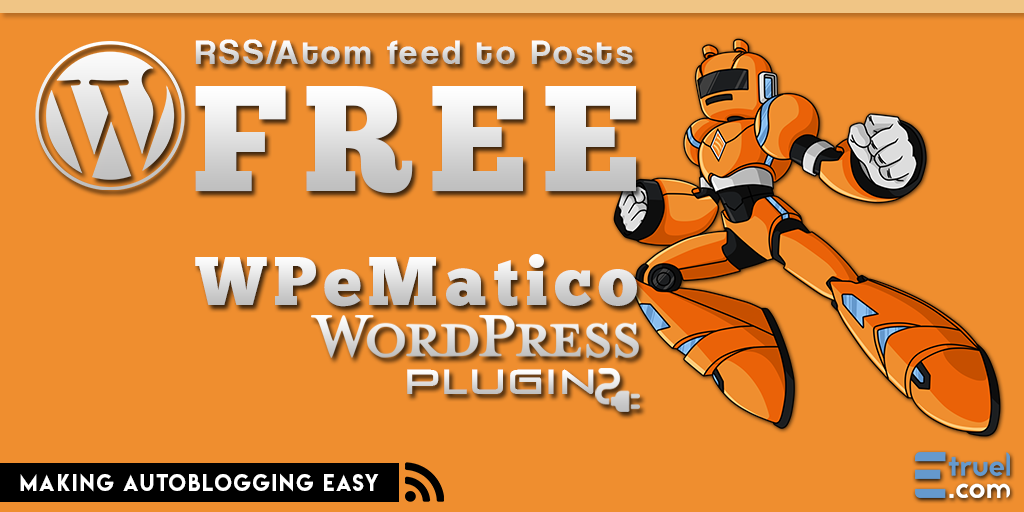 WPeMatico is a very easy to use autoblogging plugin. Organized into campaigns, it publishes your posts automatically from the RSS/Atom and XML feeds of your choice.
This plugin offers you a nice interface following the WordPress standards that allows you to manage in every campaign all the feeds you import. In order to make your site more user-friendly, you can fetch contents from multiple feeds and arrange them according to categories.
For XML and RSS fetching, it uses the Simplepie library included in WordPress or forces to use the external library included in the plugin. As for image and files processing, it uses the core functions of WordPress.
If you like WPeMatico, please Rate 5 Stars on WordPress. Thanks! 🙂
You can submit any bug in the bugtracker.
FEATURES:
FREE

Campaigns Feeds and options are organized into campaigns.
Comfortable interface like Worpress posts editing for every campaign.
Multiple feeds / categories / tags.
Auto add categories from source posts.
Integrated or not with the Simplepie library that comes with WordPress. This includes RSS 0.91 and RSS 1.0 formats, the popular RSS 2.0 format, Atom …
From 2.2v also supports for XML feeds or files by uploading them into WordPress Media lib.
Feed auto discovery allows you to add feeds without even knowing the exact URL. (Thanks Simplepie!)
Unix cron and WordPress cron jobs.
For maximum performance, you can make the RSS fetching process be called by an external cron job, or simply let WordPress handle it.
Options to set max items per fetch, comments on or off, sets authors and a lot of more options.
It allows to publish to any public WordPress Custom post type, status and post formats.
Images caching are integrated with WordPress Media Library.
The first (or 2nd or 3rd, you choose) image attached to a post can be marked as the Featured Image.
It is possible to upload & attach only the featured image ignoring the others.
Compatible to work with Featured Image from URL plugin by Marcel Jacques Machado.
You can choose whether to upload images as post attachments or not. Also upload remote images or link to source. Fully configurable.
You can choose whether to upload audio and video files as post attachments or not. Also upload remote files or link to source. Fully configurable.
Words or phrases rewriting. Regular expressions supported.
Words Relinking. Define custom links for the words or phrases you specify.
Words to Category. Define custom words to search into content or title to assign every post to specified category.
Detailed Log sending to custom e-mail. On every executed cron or only on errors with a campaign.
Option to replace title links (Permalinks) to point to the source site.
Can copy the slug from original permalink for better SEO.
Post templating before save. Can include Galleries, link to the sources or any text you want.
Dashboard Widget with campaigns summary.
Option to choose what roles can see the dashboard widget.
Multilanguage ready.

Some external integrations included:

Allows featured images from URL with Featured Image from URL plugin.
Allows to work with external crons from same server or external cron services websites.
Allows to publish forums, topics and answers in BBPress forums.
Allows to publish from XML custom feeds setting up their configurations.
Publishing from YouTube playlists, channels and profile feeds.
Allows to publish in multiple languages with Polylang plugin. Requires Polylang and WPeMatico Polylang plugins installed.
With lots of amazing and professional features to work with images and content parsers and filters.
Professional Add-on: Extends WPeMatico with a lot of advanced and new features to parse and filter feed items contents, filters for featured, media, enclosure and in-content images, automatic tags generation, inserts custom fields with every post and much more.
Synchronizer: Allows you to keep updated the posts obtained, the synchronization process analyzes the content of the feed items and compares them with the post, if different it will be updated, including media files, authors, categories and tags.
FULL Content: Takes the item permalink and scratches its web page to find the full content. Set the featured image from meta tags of source web page, Open Graph or Twitter images. Also allows set up a configuration file for every domain pointing to what section of the web page must be obtained.
Manual Fetching: Allows you to review and insert each item in the Campaign Preview feature, one by one or in bulk mode with just a click. You'll see the items already parsed like will be published as posts with their images, audio and even videos.
Polyglot: Lets you translate the posts obtained from remote feeds before inserting them in your WordPress blog. Just select the original language of articles in a WPeMatico campaign so you can translate to one of the 107 supported languages.
Make me Feed "Good": Create your custom feeds RSS 2.0 with content from external sites in your WordPress blog, regardless of whether or not those have their own feed.
Facebook Fetcher: Obtain the content from Facebook pages or groups, just adding one WPeMatico campaign per facebook page/group. Also imports images in big size, and Facebook comments with commenters names to every imported post and many more.
Better Excerpts: Makes excerpts with first post content sentence and other filters in front-end and also in feed contents. Can be used to save the excerpts just for new posts of WPeMatico campaigns or to parse the excerpts of all posts of your site when shows them in your front-end page.
Publish 2 Email: Very useful addon that allows publishing remotely by WordPress Post via email, Jetpack Post by Email feature or plugins like Postie. Sends the fetched posts to an email account. Each campaign allows send the posts to different email accounts.
WPeMatico Polylang: send the automated publishing posts of each WPeMatico campaign to a different Polylang language to allow translate them later. This translation could be done by Lingotek addon of Polylang or any other translation service manual or automated. Free.
FREE & Premium Technical Support
Ask for any problem you may have and you'll get support for free.
If it is necessay we will see into your website to solve your issue.

Get access to in-depth setup assistance.
Whatever the issue is, we will dig in and do our absolute best to resolve issues for you.
We will even log directly into your site to find the problems.
You can rest assured knowing that we are going to find an answer, no matter how long it takes.
Includes the editing for a config file for one website for Full Content Add-on.
Flash Cache: If you need a very good and WPeMatico compatible Cache plugin take a look at this FREE plugin. Improves the velocity till 10x comparing with with other cache plugins for WordPress.
Requirements
You can see all the requirements details in the System Status tab inside WPeMatico Settings screen.
Do you like WPeMatico?
Don't hesitate to give your feedback. It will help making the plugin better. Other contributions (such as new translations or helping other users on the support forum) are welcome !
Privacy terms
For the first beta versions of this plugin I was inspired for the old WP-o-Matic and also old versions of BackWPUp to make the posttype list. I'm talking about 2009 or 2010. Thanks to the developers 😉
This program is free software; you can redistribute it and/or modify it under the terms of the GNU General Public License as published by the Free Software Foundation; either version 3 of the License, or (at your option) any later version.
This plugin works also with addons or extensions that many can be purchased on our website.
The plugin uses the Easy Digital Download Extension License Manager to check for updates and validity of licenses if they are in use.
On load the Extensions page, it reads a feed only once every 5 days from our website to keep the addons list updated. (Can be deactivated from WPeMatico Settings screen)
On load the Settings page of the plugin, once per day max, reads the 5 stars user reviews from WordPress to show them in sidebar. (Can be deactivated from WordPress Settings Writing screen)
On submit the Subscription form in Welcome page, it make a request to wpematico.com website to suscribe the form data in our newsletters list.
Plugin page: wpematico.com
Add-ons page: etruel.com.
Author page in spanish: NetMdP.