The Full Content add-on works for almost all sites, but if you see that it can't get the content from a website automatically, you will need a configuration file to get the full content.
You can make it in WPeMatico Settings -> Full Content tab. (Image 1)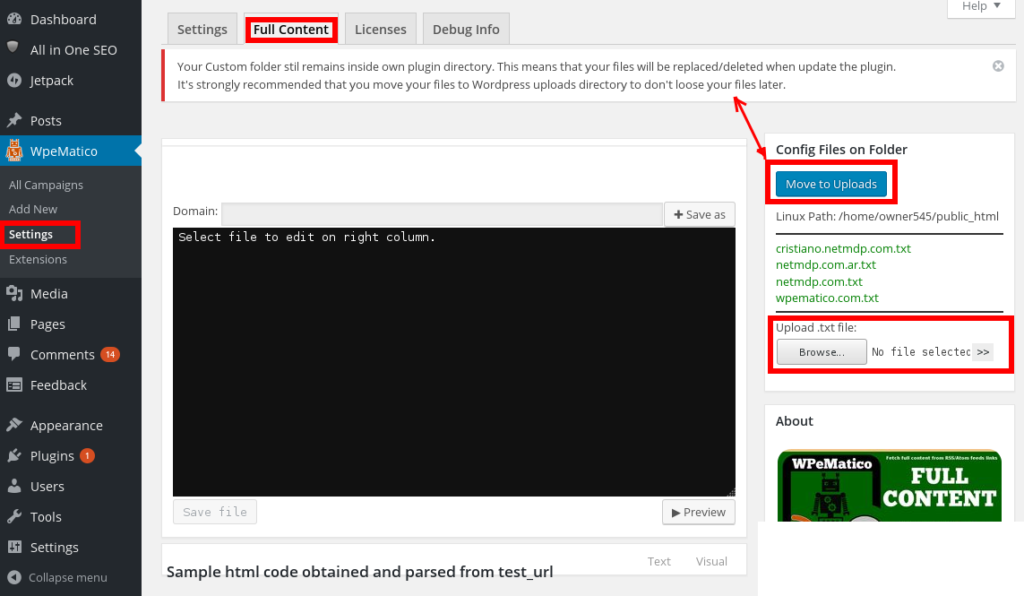 Image 1
It is strongly recommended that you move the files to the "Uploads" folder by clicking the "Move to Uploads" button.
After that, press F5 to refresh the page and use the "Browse" button to upload a config file. Also, you can click on a file to load it and "Save As" to another domain name and edit it as you want.
You should see the new file in the green list with the other files. Once the file is uploaded or created, you can't delete it from this screen.  You must get to it from FTP or some other way.
To select elements for extraction or removal, we use XPath. If you're not familiar with the syntax, there's a nice tutorial, examples, and some other instructions in the "Help" tab in the upper right-hand corner. (Image 2)
Or, if you want to buy premium support, I can make it for you.
Image 2
Continue with: How to pull more content from a source?