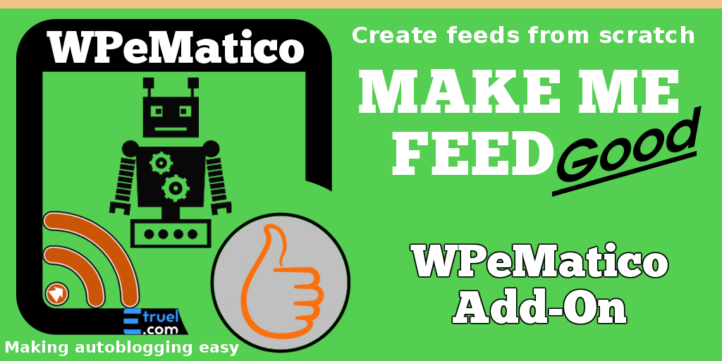 It was named this new Addon parodying "Make me feel good"! Finally born Make me Feed Good. A new plugin to create your own feeds!
WPeMatico will use the results of this Addon almost without limits! That can be created from external websites.. Yes! Any website that is displayed in the HTML standard with DOM elements and CSS attributes "class" or "id" can be read by the plugin and create your own feed with external content.
It's incredibly easy!
Make me Feed creates a RSS 2.0 feed with titles and links from an external website, no matter that already has some feed or not! You point which links want to add to your content, and it makes the feed with the limit of items that you indicate.
Take a look to the features of the new addon: Make me Feed.
But now comes the best part, Make me Feed gets along very well with the add-on WPeMatico Full Content and can automatically use its features and configuration files to get the full content of each captured link and put it as content for the item in the feed. In this way you will have a feed from an external site with all the permalinks to articles and the full contents for display directly in a page of your site in RSS 2.0 format.
Make me feed works with the internal WordPress cache systems, so it is not continuously accessing to the other sites. Which can significantly delay or get timeouts in the execution or loads of pages, but that each external page read is saved by some time to be used as content, gaining in performance and significantly lowering loads on the server.
These feeds can be read easily by a WPeMatico campaign or any feed reader.
It is the ideal complement for WPeMatico together with the AddOn Full Content.
Wish your positive vote of 5 stars in WordPress, also your feedbacks and ask for features in the ticket system!
Finally the most awaited! Discounts and offers!
All customers who have bought WPeMatico PRO Bundled Package, can upgrade their license to get Make me Feed at half price! 50% OFF.
Customers who have purchased WPeMatico Full Content Addon, can upgrade their license to get Make me Feed 40% OFF.
Only login to your account on the site http://etruel.com/my-account and you'll see the licenses to upgrade.
At the end as a launch promotion for all people, a discount coupon valid until end of June by a 20% OFF! Use the code  MMFLAU20 to get the discount.
Definitely will make you feel good. 😉
enjoy();