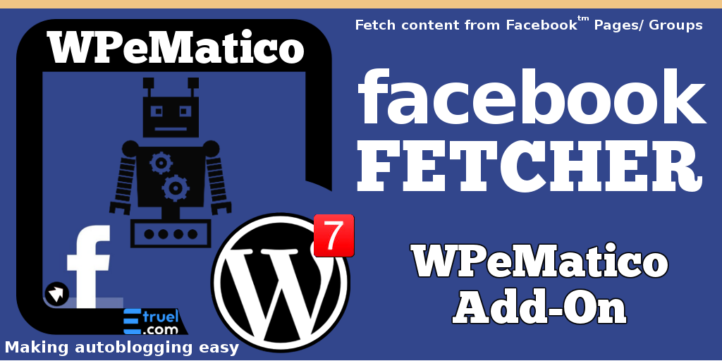 Hello there!
We're a few weeks behind with the update because we keep growing and growing!! And now, we have lots of news for our community of users using WPeMatico and the other WordPress plugins!
Look for some discount coupons in the text!! (hurry before their expires)
First, what's new on the site:
We're now "https"
Yes, we've implemented SSL and since a few weeks ago, our links with http now redirect to https://etruel.com, and now the plugins and add-ons are also updated from here!
New FAQ and tutorials
We've added several common questions to the FAQ section and several of them in the form of step by step tutorials so that it's even easier to use things!
Improvements to the support system
We are continuing to improve the ticket system that so many people have been asking about. It is now operational and you can easily see the attachments to each ticket from the site.
The email monitoring and response system for tickets is very useful and very soon we will also add the option to send and receive attached files in the emails themselves.
Improvements to user accounts
The user profile has been greatly improved, with several additional tabs with direct access to Profile, My Licenses, Downloads, Purchase History, and Support tickets.
This allows you to always have access to all of your information, licenses and subscriptions with just 2 clicks. You can also expand and renew your licenses or manage your subscriptions.
Credit cards + PayPal
Several customers requested an alternative payment method to PayPal because it isn't available in their country. Now, we have implemented an option with credit and debit cards via 2Checkout. And in case of any problem, we also have the option to place an order with a manual payment through Payoneer; for these orders, please open a support ticket and we'll send you the instructions personally.
Affiliate systems
People have asked us on several occasions to become affiliate partners with us for sales of Add-Ons and other products. If you're interested, we would love for you to write us and give us your opinion and suggestions to continue generating interest and seeing the possibility of adding a system in the near future.
News in Plugins and Add-Ons
The latest and updated version of the plugin has just been released! But now it also comes with a new name: WP Delete Post Copies v5.0.
Made completely from scratch with new, useful features, and best of all – it's still free!!
Use it to search for and delete duplicate posts automatically.
The new main function is the deletion campaigns, which let you divide it into different schedules and different filters.
New version of the Add-on released, compatible with version 5.0 of WP Delete Post Copies. A very interesting add-on that lets you use the deletion campaigns by age of post or date of publication.
We are continuing to improve the free version of the best plugin for making WordPress automatic. We've implemented a new feature that until now hasn't worked and which many people requested: Extraction of videos from feeds, channels or YouTube users!
We've also added types of campaigns. This will make the plugin much more powerful for the add-ons and will allow you to add sources other than RSS.
More filters have also been added to expand its possibilities, as well as a new control for duplicates when the campaigns obtain php timeouts.
Add-on version 1.3.8
Two new and very important features.
The ability to filter posts by name of a category given by the original source.
And another requested feature which is renaming imported images with a personalized name or with the name of the post. Some minor adjustments have also been made.
Add-on version 1.5
Several new options have been added!
Now, you can record the excerpt, replacing the content of the post.
It allows you to add the Read More tag with the link to the original source at the end of the post's content. It lets you open the "Read More" link in a new browser window.
2 important errors which sometimes hindered the proper creation of the extract in each post have been corrected.
Add-on version 1.3
An error which sometimes caused links to articles to be produced incorrectly has been fixed.  Use coupon code MMF25 to get a 25% Discount!
NEW Releases (and Discounts 😉 )
Add-on version 1.0
A brand new add-on to publish posts obtained from Facebook™ pages and groups. From Facebook to your blog with images and comments!!
Use coupon code WFF25 to get a 25% Discount!

Add-on version 1.0
We are continuing to expand functionality with another new add-on available for individual use in each campaign, allowing you to obtain images from search engines to use in the posts published without a featured image or replacing the obtained image from the source site.
Use coupon code WTS30 to get a 30% Discount!

That's everything, and it's a lot!! We're also saving a few surprises that we are preparing for the very near future… 😉
enjoy();