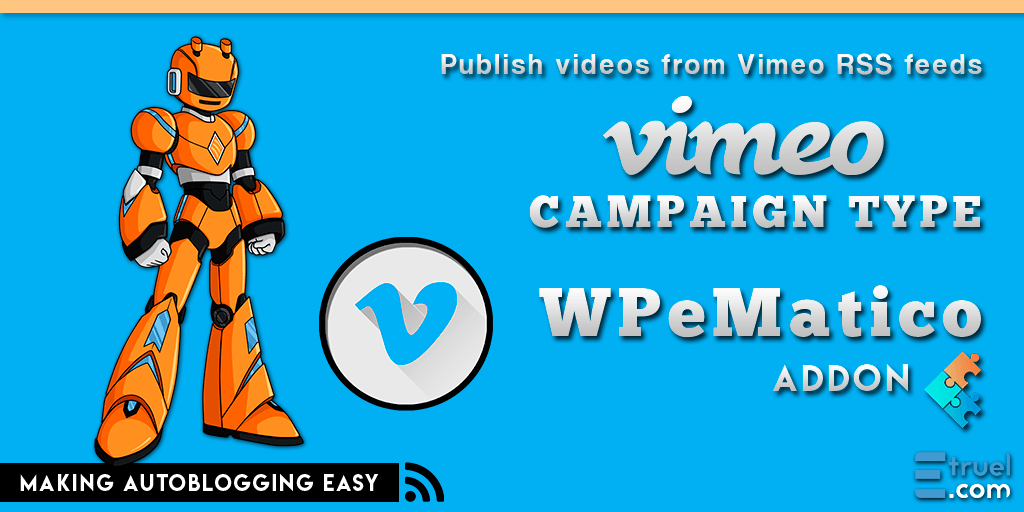 The WPeMatico Vimeo add-on allows you to use WPeMatico from a WordPress website to publish videos from different RSS feeds from Vimeo accounts.
Vimeo is a video-based Internet social network launched in November 2004 by InterActiveCorp.  It was an ad-free video platform based in New York City, providing free video viewing services.
And today, Vimeo is much more than a viewing destination. It's a start-to-finish video platform, giving creative professionals, businesses and organizations everything they need to make and market amazing, impactful videos.
Vimeo serves a global community – from award-winning filmmakers to popular fitness gurus and everything in between.
We want to honor them with this product so that all WPeMatico users
can easily share their videos on the websites automatically.
WPeMatico Vimeo add-on allows you to automatically publish amazing videos from a Vimeo profile embedded or with iframe, with the possibility to choose whether or not to add the featured image and even the video description. It also includes a preview where you can see how the posts will look like before you create them while you modify the options.
Whether for a video blog or for sporadic publications, you can configure the capture and publication schedules in one go, and choose the target custom post types, tags, categories and even the target post status for the published videos.
Create Vimeo videos as post type on your WordPress blog
You can create videos from a Vimeo profile embedded or with iframe, with the possibility to choose whether or not to add the featured image, you can also include or not the video description.
Visualize the look and feel of posts before creating them
It includes a preview in the metabox where you can see how the posts will look like before creating them while you modify the options until you get the desired result.
Insert videos as Embed or Iframe
You can choose how to insert the video in your blog posts, it can be with <iframe> or [ embed ] depending on which one best suits your theme.
Change the sizes of the video frames
Modify the appearance of the videos inserted as iframe by increasing its width and/or height to your liking, you can also keep it at 0 to make it responsive.
It's the world's leading all-in-one video software solution. Their platform enables any professional, team, and organization to unlock the power of video to create, collaborate and communicate. They have a growing community of over 200 million users — from creatives to entrepreneurs to the world's largest companies
The site allows sharing and storing digital videos for users to comment on each video's page. Users must be registered to upload videos, create their profile, upload avatars, comment and create lists of favorites.
As WPeMatico Add-on requires WPeMatico base plugin installed and activated.
PHP 5.3 or higher.
**To take in mind:**
Our plans are to continue the support for this plugin always, but as all automated process using external websites or API Keys from third parties services, it may be possible to change its services and stops this plugin to work properly. Anyway, we'll be our best to update it to the new techs.
Please note and consider the following BEFORE BUY:
DON'T BUYWarranty and Disclaimer.Limitation of Liability.
For testing purposes or if you have doubts.
Once you bought you have access to download the plugin, then the money IS NOT refundable.
Read Refunds and other policies at our Terms and Conditions.
You're not paying for technical support or the program itself.
You will have access to updates for an year for single site license. Yearly renewal until cancelled.
You can see all features that you are buying at above.
We can make some tests in your website if you need to know that works.
You can ask any question by creating a ticket at Support Page.
THERE IS NOT WARRANTY THAT: (A) THE OPERATION OF THE SOFTWARE OR HARDWARE WILL BE UNINTERRUPTED OR ERROR-FREE OR THAT FUNCTIONS CONTAINED IN THE SOFTWARE WILL OPERATE IN COMBINATIONS OF SOFTWARE OR HARDWARE THAT MAY BE SELECTED FOR USE BY YOU; (B) THE SOFTWARE WILL MEET YOUR REQUIREMENTS OR EXPECTATIONS; OR (C) ANY RESULTS, OUTPUT, OR DATA PROVIDED THROUGH OR GENERATED BY THE SOFTWARE WILL BE ACCURATE, UP-TO-DATE, COMPLETE OR RELIABLE. EXCEPT AS EXPRESSLY STATED IN THIS SECTION, TO THE MAXIMUM EXTENT PERMITTED BY LAW.
I SPECIFICALLY DISCLAIMS ALL OTHER WARRANTIES, EXPRESS OR IMPLIED, ORAL OR WRITTEN, ARISING BY LAW OR OTHERWISE, RELATING TO THIS AGREEMENT AND THE SOFTWARE AND ANY SERVICES PROVIDED TO YOU, INCLUDING WITHOUT LIMITATION, ANY IMPLIED WARRANTIES OF MERCHANTABILITY, FITNESS FOR A PARTICULAR PURPOSE, TITLE AND NONINFRINGEMENT OF THIRD PARTY RIGHTS.
Copyright Infringements
The use of use WPeMatico, the Full Content add-on, and any other products or services provided by Etruel to infringe the intellectual property rights of third parties is prohibited;
Users may be liable for copyright infringement if they use WPeMatico, the Full Content add-on, and any other products or services provided by Etruel to copy, reproduce, or republish content for which they do not have a valid license.
IN NO EVENT, I OR THE SOFTWARE WILL BE LIABLE FOR ANY INDIRECT, SPECIAL, INCIDENTAL OR CONSEQUENTIAL DAMAGES, HOWEVER CAUSED, WHETHER FOR BREACH OF CONTRACT, NEGLIGENCE OR OTHERWISE, AND REGARDLESS OF WHETHER HAS BEEN ADVISED OF THE POSSIBILITY OF THOSE DAMAGES, INCLUDING WITHOUT LIMITATION, THE USE OR INABILITY TO USE THE SOFTWARE, OR ANY RESULTS OBTAINED FROM OR THROUGH THE SOFTWARE.