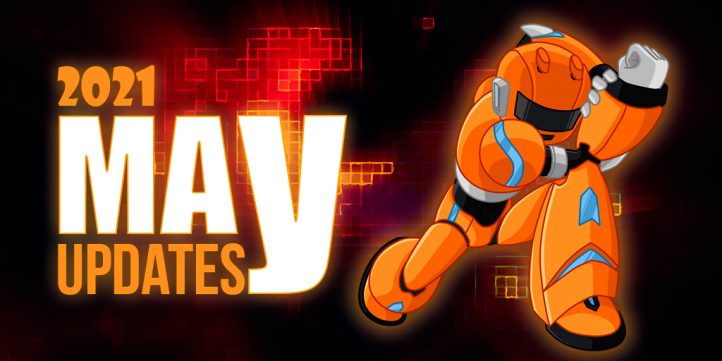 Hey guys! A lot of awesome stuff happened this week. Four FREE updated plugins and two addons and counting… It's about Better Excerpts, Synchronizer and Custom Hooks on WPeMatico addons, but also WP Delete Post Copies, WP Delete Oldest Posts and Visual Builder for Contact Form 7 have seen the light again. We will try to summarize them in this post, here we go.
The most important of this week:
We update WPeMatico RSS Feed Fetcher to a new version 2.6.9.
Our good friend "Robotico" did it again.
He is publishing the posts of everyone who has this new version of WPeMatico active. And boy does Robotico know how to make a lot of friends online. This new version had +5000 downloads in only 24 hours. Just amazing!
Always Remember this: The work of our good friend Robotico It's FREE, but fully functional and has a lot of features for autoblogging with WordPress, allowing to do that from many feeds grouped in campaigns and executed automatically. Check it out here!
Some of the most important changes in its functionality are developer friendly, adding new filters to allow the use of external functions to upload images or remote files. This will allow users with very restrictive server configurations or weird WordPress settings to implement their own custom upload functions.
We also added some anonymous campaign data in the Debug file to allow us to help users with wrong setups or lose of performance.
Discounts!!
And remember not to overpay, many of the extensions are on sale with a good discount on our Deals page.
Newsletter
In others news, We know that we have quite abandoned you with our newsletter, but we continue receiving subscribers to it, and we have celebrating that we already have 3000+ subscribers to our newsletter. Amazing!
In other news, we know that we have pretty much abandoned you with our newsletter, but we are still receiving subscribers to it, and we are celebrating that we already have more than 3000 subscribers to our newsletter, amazing!
Very soon you will receive the news there in your mailbox again.
We have also put our social networks to work a bit more, so we can be a more in touch with you and because we want to make sure you don't miss out on our offers and also the news we are working on.
Finally, the list of updates for this week:
Also, this week, our development team has been working hard to get all these add-ons ready with their respective updates.
1) WPeMatico Better Excerpts WordPress plugin.
It notably improves the standard WordPress excerpts, allowing to use multiple filters and options to modify their contents with customized configurations.
We improved its compatibility with PHP 7.4+ and WordPress 5.7.1
2)WPeMatico Synchronizer
is an add-on for WPeMatico that allows you to keep updated the content of the posts obtained by any feed, during the synchronization process this addon analyzes the content of the feed items and compares them, if different from the content of the post, it will be updated, including multimedia files, authors, categories and tags.
Among other things we have fixed a problem with the synchronization of remote image URLs and an issue when saving settings.
3) WPeMatico Custom Hooks (free)
This free addon allows you to execute actions and filters provided by WPeMatico in order to create custom behavior in the execution of your campaigns, right from your WordPress admin panel. It's very interesting because it will let you see the functionalities of this powerful autoblogging plugin in greater depth, as well as its extensions on the development level.
We significantly improved the JavaScript used and corrected the loading only on the necessary pages of the plugin. We also fixed the execution of filters in the manual execution of campaigns and several other fixes and performance improvements.
4) WP Delete Post Copies (free)
This plugin searches duplicated posts by title or content, filtering by category and can permanently delete them with images or send them to the trash in manual mode or automatic scheduled with WordPress cron.
And as a special feature, the erasing images by two different manners, images attached to posts can be trash or delete permanently and also can delete images added in posts content by html tag .
5) WP Delete Oldest Posts (free)
This add-on enables WP-Delete Post Copies to delete posts published before a date or prior to a period.
You have two main options that override settings for duplicated posts and enables the new queries to delete all before a date.
6) Visual Builder for Contact Form 7 (free)
Currently, Contact Form 7 plugin just allows editing forms with HTML in standard textarea. This Add-on allows previews, items order with drag and drop, and deletes field items just with a click.
Also adds an HTML code highlighter in the textarea and some selectable themes to choose different colors schemes.
Support Tickets
As a closing reminder that we have an excellent (and free) customer support for users of our plugins.
If you have any problems or doubts before purchasing or want to request any additional features just go there and easily create a support ticket.
If your problem is not with our plugins, but you need to fix things with your WordPress you can also take advantage of our Premium Tickets.
That's all folks!
Happy blogging.
Your teammate at etruel.com