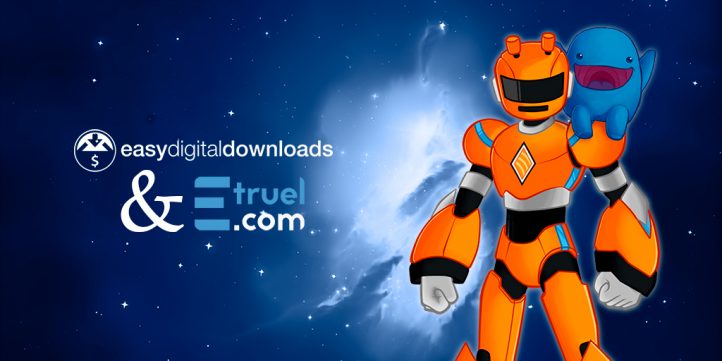 This time the note will be much less technical than the ones we are usually do; we will talk a bit about our history, about what is behind the scenes of etruel.com and how we got to our "partners" today… Easy Digital Downloads. We love WPeMatico and etruel with Easy Digital Downloads
I'm sure you'll find the experience useful if you have or want to have a store for automated sales of digital products.
The history
I think I first heard about WordPress around the first months of 2004, about a year after its creation by Matt Mullenweg. I was already a hobbyist researching online technologies and making web pages several years ago; I tried many different CMS at that time, so I installed it and it was my favorite against the options of the time (it still is).
From here on everything would follow a road that truly opened up as I walked along it.
The idea
Since I love to automate everything I started looking for a way to publish posts automatically and with RSS in full growth since 1999, appeared a WordPress plugin that did the task, read the news from RSS feeds and published them automatically as posts.
For me, it was crazy cool to be able to generate an automatic web where to collect news only from sites of my interest; but very soon the plugin would become obsolete and would be abandoned, I guess for lack of resources or disinterest of the creators, which by the way, I could never contact.
And it happened, after some time it didn't work anymore and after waiting a lot for an update that didn't happen, I developed my own plugin for autoblog.
The name
It was crazy cool to be able to generate an automatic web where to collect news only from sites of my interest
These were the primary reasons why
WPeMatico
was born.
The name comes from a conjunction of the WordPress initials (WP), the initial of my nickname (etruel) and the last half of the Spanish word "automático" (Matico) (yes… I know… today I would give it a different name xD ).
I published it for free and for free use, and it started to be quite used and to receive good feedbacks, eventually the idea arose to make a professional version where I could include extra features and generate resources to continue to maintain the development.
The store
This led me to encounter some new problems. The sales platform should be WordPress since everything was used under that framework. The payment methods and how to obtain the money were the real challenge.
I was searching and testing many alternatives. Several sales plugins that I saw at that time no longer exist today. Developing for WordPress requires constant updating so many were forgotten and disappeared.
Developing for WordPress requires constant updating.
Finally I decided to use a plugin that I don't remember the name, but it worked in levels, so that the person who used the free version paid once and had access to the PRO version where all the professional features were.
This solved the problem partially and I used it for a long time in
www.wpematico.com
, but with this method then arose several problems and some of them serious, that if I didn't face them, today would not exist neither etruel nor WPeMatico…
The problems
The one-time sale and the download-and-upload system worked against us because it only referred to this site with a product that the customer got once and lost all contact unless they downloaded an update. This model would not last long without recurring resources to fuel the development of new or improved features.
We needed and wanted to:
Find a way to be able to expand and upgrade our products to other thematics outside of WPeMatico.
A simple sale without registration procedures.
But also to be able to build customer loyalty and offer after sales support and follow up.
As few steps as possible to make a quick checkout experience.
To offer all possible payment methods to finally be able to access more customers.
To be able to continue developing constant and periodic updates.
A system of automatic update of the extensions in the WordPress sites of the clients.
To be able to offer automatic and optional recurring payments to our customers.
Allow to extend the product or licenses paying only the difference with the one already purchased.
The real store
With all this in mind would be born etruel.com as a store to offer support and all kinds of plugins for WordPress. Then I started the search for an e-commerce plugin… but with a new and important variable, in all that time developing WPeMatico I had known https://pippinsplugins.com for its WordPress tutorials.
And I wanted a business model similar to what I had read in their annual reviews, so it didn't take me long to decide when I saw that Easy Digital Downloads with some extensions had all the necessary features I was looking for and many more.
Software Licenses
and
EDD Recurring
, the
etruel.com
store was born at the beginning of 2015 accepting payments by
PayPal
,
2CheckOut
,
Stripe
and later adding several more to accept
manual payments by Payoneer
and
Bitcoins
.
Conclusion
I can tell you that from the first moment I found it as a solid product, intuitive, friendly with WordPress and with the developers for their custom filters. It's always in constant growth and now waiting with great expectation for version 3.0, which seeing the work and time behind it promises much more.
Later on, but already as different stories, several people would join the team that are pillars for etruel.com, and we would also add the development of our own extensions for EDD and several other plugins that you can find them on the site; take advantage that they are on our Memberships with discount .
Farewell
That's all friends and enough from here. Esteban and the whole etruel team say goodbye with a big 'high five' and a wink to our friends at Easy Digital Downloads.