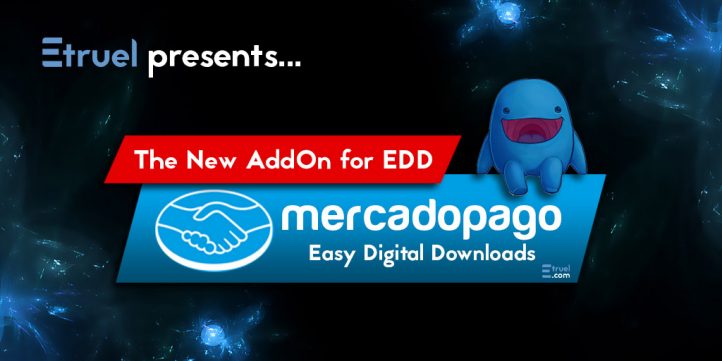 Release Notes
We are very happy today because we are publicly launching our payment gateway 'Mercado Pago' for Easy Digital Downloads!
Easy Digital Downloads (EDD), created by Pippin Williamson, is a free e-commerce plugin from WordPress that focuses exclusively on digital products and can also be easily used for services or any online sale. Its main objective is to make the sale of digital products simple and complete. A great thing about Easy Digital Downloads is that it can be mounted and used immediately and is also quite lighter in speed and resource consumption compared to other e-commerce stores. Its excellent coding allows to integrate external extensions such as the sale of software with licenses or recurring payments among the most used.
EDD-mercadopago joined etruel a few months ago and we have been working hard, but also enthusiastically on it, creating a totally new and intuitive product. It works completely integrated with EDD in Checkout Basic mode and is compatible with EDD Software Licenses.
However, if you need compatibility with EDD Recurring it is also possible to do it with Custom Checkout, but for now it only works with credit cards and with a purchase form integrated in the checkout of the store. It does not use the recurring payments of Mercado Pago but those of Easy Digital Downloads generating movements in the activity of the account of Mercado Pago as common purchases.
To see more features take a look at the product page at https://etruel.com/downloads/edd-mercado-pago/
Development notes
In these months we notice that the API of Mercado Pago is quite harsh with a lot of information mixed between old and new APIs, and that for Custom Checkout it does not have a total testing environment as it does for the Basic Checkout.
For this reason, also knowing the needs of many users and also having a full and functional version tested with the Basic Checkout and everything possible with the Custom, we decided to release the product and continue working, debugging and improving the plugin while we enable it for purchases and use it in production environments.
This will allow end users to use it and give us their opinions and suggestions as well as needs that may arise to implement new functions to the plugin.
Price Notes
As a new product is launched at promotional price with a discount code with one month duration. Use the code 30EDDMP to get a 30% discount before the coupon expires!