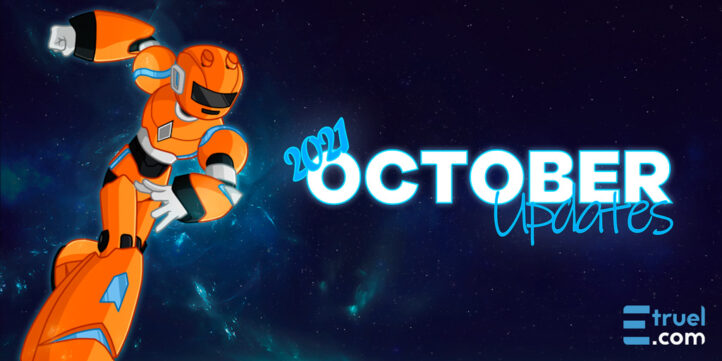 Hey guys! Don't miss us too much, if you haven't heard from us, it's because the Etruel development team is working harder than ever. On these first days of October we want to tell you a lot of amazing things happened these past weeks.  Here it comes all our October '21 Highlights News.
Two plugins updated for FREE and 1 addon PRO and counting….
We are talking about WPeMatico Professional, but also WP Delete Post Copies and Visual Builder for Contact Form 7 which have been significantly improved. Let's try to summarize them in this post, here we go.
The most important of this week:
We update WPeMatico Professional addon to a new version 2.13
We continue to grow and expand to more countries so we are happily forced to modify our plugins to make them compatible with more languages and we recently released an update to our WPeMatico Professional addon making it multibyte compatible with the word counter and words cut functionalities of the content to support Greek, Russian, Arabic, Chinese, Japanese among others.
Remember that the soul of WPeMatico RSS Feed Fetcher is our good friend ROBOTICO and his great ability to manage campaigns for your wordpress site. He is publishing the posts of everyone who has the latest version of WPeMatico active.
---
And boy, does Robotico know how to make a lot of friends online.
The last FREE version of WPeMatico updated had +6000 downloads in just 24 hours, simply amazing! 
---
Always remember this: The work of our good friend Robotico is FREE, but fully functional and has a lot of features for autoblogging with WordPress, allowing you to do that from many feeds grouped in campaigns and executed automatically. Check it out here!
Some of the most important changes in its functionality are developer friendly, adding new filters to allow the use of external functions to upload images or remote files. This will allow users with very restrictive server configurations or weird WordPress settings to implement their own custom upload functions.
We also added some anonymous campaign data in the Debug file to allow us to help users with wrong setups or lose of performance.
EDD Extensions Discounts!!
We can not forget to mention Easy Digital Downloads and the very recent news of its acquisition or joining with Awesome Motive. We believe this will be a great boost for EDD and its development team, and that's why we want to celebrate this event with a discount coupon for the extensions we have on etruel.com. Use discount code "EDD30ALL" to get 30% discount on them for four weeks.
Newsletter
In other news, we know that we have pretty much abandoned you with our newsletter, but we are still receiving subscribers to it, and we are celebrating that we already have more than 3100 subscribers to our newsletter, amazing!
We're finishing our moving to Mailjet and very soon you will receive the news there in your mailbox again. (Hope this news 😉)
We have also put to work a little more our social networks, to be more in touch with you and because we want you not to miss our offers and also the news we are working on. And if you want to contact us or give some suggestions or requests you can also do it to our support tickets.
Finally, the list of updates for this week:
Also, this week, our development team has been working hard to get all these add-ons ready with their respective updates.
Extends WPeMatico with a lot of advanced functions and a lot of new features to parse and filter feed items contents, filters for featured, media, enclosure and in-content images, automatic tags generation, inserts custom fields with every post and much more.
We recently released an update to our Professional addon making it multibyte compatible with the word counter and word trimmer functionalities of the content to support Greek, Russian, Arabic, Chinese, Japanese among others.
This plugin searches duplicated posts by title or content, filtering by category and can permanently delete them with images or send them to the trash in manual mode or automatic scheduled with WordPress cron.
And as a special feature, the erasing images by two different manners, images attached to posts can be trash or delete permanently and also can delete images added in posts content by html tag.
BTW, this plugin has an interesting addon to delete oldest posts dynamically by dates or periods ago.
Currently, Contact Form 7 plugin just allows editing forms with HTML in standard textarea. This Add-on allows previews, items order with drag and drop, and deletes field items just with a click.
Also adds an HTML code highlighter in the textarea and some selectable themes to choose different colors schemes.
Support Tickets
As a closing reminder that we have an excellent (and free) customer support for users of our plugins.
If you have any problems or doubts before purchasing or want to request any additional features just go there and easily create a support ticket.
If your problem is not with our plugins, but you need to fix things with your WordPress you can also take advantage of our Premium Tickets.
That's all folks!
Happy blogging.
Your teammate at etruel.com