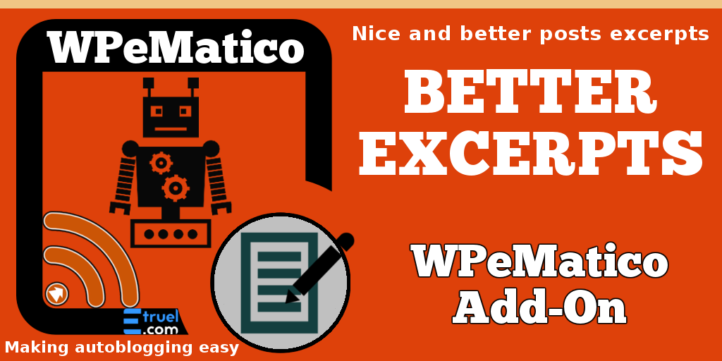 New from scratch: Better Excerpts 2.0
WPeMatico Better Excerpts already had the function to work for the wordpress posts or to the posts imported from the campaigns of WPeMatico and it was necessary to have the WPeMatico installed and enabled to use the Better Excerpts.
But Now we launched the first AddOn that also works on an individual basis for standard WordPress posts!
The new Better Excerpts 2.0 works with or without WPeMatico! That's why can be purchased for use as an extension of the WPeMatico or as exclusive use to significantly improve the excerpts of WordPress entries.
But this is only one of the new features, we did it completely from scratch to improve stability and performance…
And take a look on how good that from now, if you use it together with the WPeMatico, you can give to each campaign its individual settings for the excerpts saved with the imported posts.
Look at the screenshots to see all the features and additional options you'll have using WPeMatico Better Excerpts.