WPeMatico
After several weeks of work, we were finally able to publish the new version of WPeMatico along with the Professional and Full Content extensions.
We've fixed several issues reported by our users and customers, and we are also starting to implement several filters and new, important features that are unique to WPeMatico, making version 1.5 the best version yet.
Among the new features, we can highlight taking the slug from the permalink source, something that improves SEO considerably. And also that the Strip links function doesn't delete the links from the iframes, deleting some videos in the process. Now you can choose where to delete from, and where not to.
We still have lots of ideas and for the upcoming releases. We'll focus on continuing to improve the ways to obtain remote coding (charset for international sites and feeds), the stability of the plugin and its performance when it comes time to execute the campaigns, and when getting items from feeds to improve the time and use of resources. Among other things, we'll be working on these in upcoming releases in the near future.
We have been receiving many requests for extensions, so we will start to work on those and I think that very soon we'll have quotas, multilanguage, feeds in sync and much more!
Professional Add-on

Several improvements have been made to the add-on Professional. Support was added for multipage feeds with the format used by WordPress and a floating window to add all the advanced functions for each individual feed. Plus, a new function has been implemented to delete part of the content starting from a given word or phrase to the end.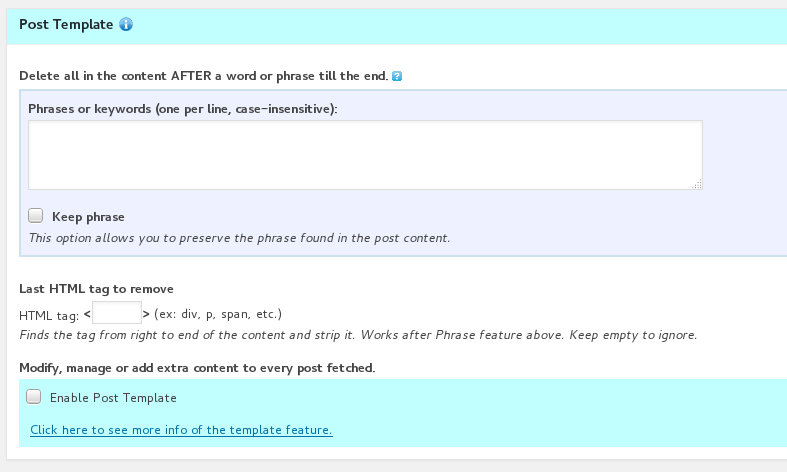 Delete all the content AFTER a word or phrase until the end.
Full Content Add-on
In the add-on Full Content, we've improved the treatment of open-graph images and added options and conditions of use for images, plus fixes for several reported bugs, particularly with the coding of international sites, among others.
In any case, there are many different stages and environments, so we will continue to follow up with our users to keep resolving any issues that may arise and work towards perfecting the plugin even more.

Version 1.5
The best free plugin that makes automatic WordPress. Autoblogging in the blink of an eye!

Add-on version 1.5
Several advanced features very important, related to treatment of feeds and text filtering.

Add-on version 1.5
Gets the full remote content from the link of the feed through configuration files per domain.

Guardar
Guardar