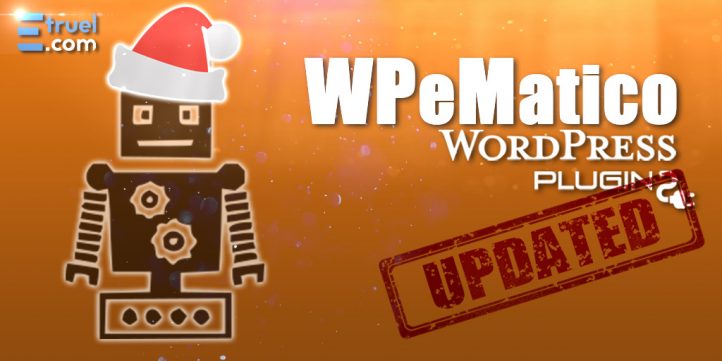 Keeping the WPeMatico plugin and its add-ons updated is extremely important to keep your campaigns working properly. Updates are improvements that are made to the core and different add-ons which serve a specific purpose, in order to make sure they work optimally and repair any bugs, errors or issues that might come up.
Take a look what's new with WPeMatico and its add-ons:
WPeMatico is an autoblogging plugin. With its help you can automatically create posts from your preferred RSS/Atom feeds and organize them in campaigns.
In the last 2 versions, we have decided to add the options "Start Campaigns" and "Stop Campaigns" to the bulk options in the list of campaigns. Now, you can even use "shift+click" to select campaigns from the list faster.
In this version, a custom user-agent and filters to change it have also been added. Finally, our CSS code has been cleaned up and improved.
WPeMatico Professional expands WPeMatico with a ton of advanced functions and lots of new features to analyze and filter the contents from the source elements.
In the last 2 versions, we've fixed a "Default featured image if not found image on content" pop-up and solved an issue with loading the default featured image from a URL; now, you can assign a featured image from the URL of your choice.
Plus, we've added an option to change the user-agent used to read the feeds. Another very important feature is that it now corrects the use of the "Force Feed" and "user-agent" options in Test Feed and the verification fields of the saved campaign. It even has support for the new feed formats from Google News.
WPeMatico Make me Feed is an add-on for WPeMatico that allows you to create RSS feeds with content from sites external to your WordPress blog, regardless of whether they have their own feed or not.
The last 2 versions of this add-on include an update to the license key administrator. We also changed the route where cookies are saved; you can now find them here: uploads/wpematicopro/curl_cookies/
This version solves a problem with source links that give an Error 404 in some cases. Something very important that we want to highlight is that, in this version, we made a first attempt at adding private feeds via http authentication. (This feature can be used, but is still in beta. Also, if the "Server API" is CGI/FastCGI, this function cannot be used).
What are you waiting for? Update and enjoy all our latest changes and improvements.
In other news, we invite you to check out our new FAQs, which will help clear up any questions you may have or troubleshoot problems with our plugins.
Some of the new FAQs include: