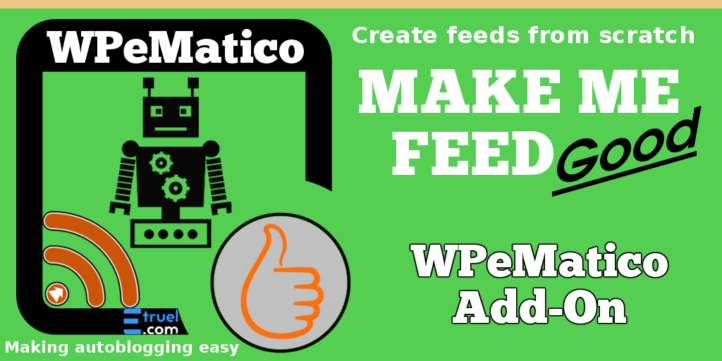 Make me Feed "Good" is an addon for WPeMatico that lets you create RSS 2.0 feeds from external sites on your WordPress blog, regardless of whether they have their own feed or not. This tool can work in conjunction with the WPeMatico Full Content addon and create the items from the feeds with the full content…
Make Me Feed version 2.0 has several new useful and interesting features.
Inspector
This new feature added in this version allows you to select the exact CSS class from a popup in order to extract it and add it to the ID or Class field which indicates the permalink for each item.
The inspector may not be completely accurate, but it will definitely help determine the correct ID of the anchor required to obtain the permalinks with the necessary titles to create each item in the feed.
If you also have the Full Content addon, you can add the full content to each item in the feed, or better yet, if the feed will be used with WPeMatico, you can leave just the titles in the feed and get the full content from the campaign before inserting the posts.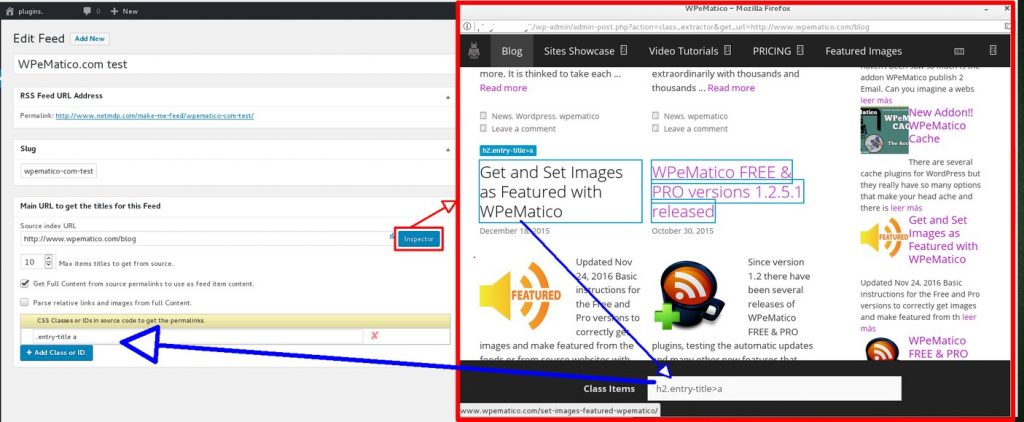 New cache system
The second feature is the new cache system for the created feeds. The caches work independently for the list of URLs obtained from the source site, as well as for the content of each particular item. As it is very unlikely for this content to change, a cache is generated that saves the content of each item, thus avoiding many unnecessary queries to the original site and greatly improving performance.
In order to be able to refresh them and change their values, all management and control of the Time to Live (TTL) for these caches is individualized by feed and found on the edit screen of each feed created.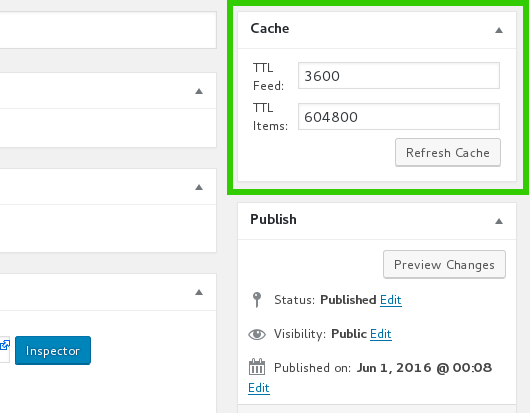 Cookies
Another thing to highlight is that Make Me Feed now supports cookies from the main site from which you obtain the links for a feed. Initially, they will be recorded as temporary files within the plugin, and the addon will use them when querying the source site. All of this happens automatically; you don't have to do anything.
Version 2.0
Allows to create RSS 2.0 feeds with content from external sites on your WordPress blog, regardless of whether or not those have their own feed.

Bundled Package
lets you create unlimited RSS feeds of external sites to read them on your own WordPress site.

Add-on
Takes the title and permalink of each item and scratches its web page to obtain the full content. Works automatically with almost all sites, but is also configurable.