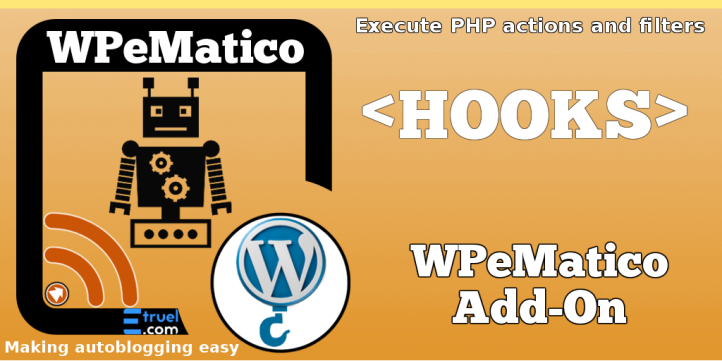 August is here, and with it we bring a whole bunch of useful updates and improvements to many WPeMatico products. We even have a new (free!) addon for you!
New features and filters in WPeMatico Core (free version)
A helpful new feature has been added in the free version of WPeMatico that allows you to choose an image from the source article by order. In other words, automatically choose the second image from the source article you have fetched from, or the fifth image, etc.
New filters have also been added so that you can process the post's featured image by attachment ID.
This update also makes some tweaks in the campaign logs for media files, resolves an issue with path redirections in the location header, and fixes a bug when deactivating the WP Cron.
WPeMatico Professional 1.7.3
and WPeMatico Full 1.6
A useful feature has been added to WPeMatico Professional so you can avoid having to upload the Default image over and over again.

Lots of improvements have been made to Full Content Addon, including a redesign of the Config Files Editor screen, Settings, and Full Content tab. A class Inspector has also been added to get the xPATH for the correct content in each domain. Finally, we have put in a new feature that allows you to insert a new blank txt config file from scratch.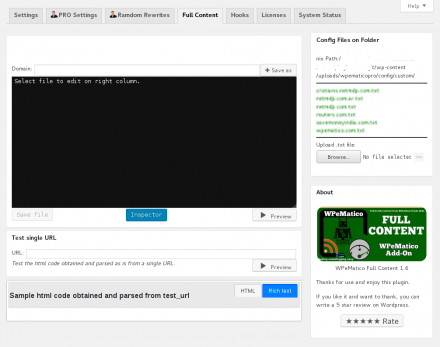 This new, free addon lets you add actions and filters that WPeMatico possesses in order to make personalized changes in the campaigns you execute, or actions that require a specific change in behavior.
Other updates
For WPeMatico SMTP 1.4, we have added a new code structure, completely redone from scratch. The  method has been changed to OpenSSL AES, and it is now compatible with the Core license updater. Finally, the problem with password autocomplete in Settings has been fixed.
In Make Me Feed, an issue with the new Inspector popup has been resolved.
We have a new structure for the main code in our Chinese Tags 1.3, redone from scratch, and the new updater from Core has also been added. Finally, the issue with PHP notices when installing with the PRO version has been fixed.
Remember! Make sure your license keys are loaded and activated in the Licenses tab of WPeMatico Settings!!
Coming soon, Stats!
Need more detailed reports or statistics? Post obtained per day? Feeds that aren't working? Or do you want to know how a campaign is working and how much you are getting from it each time it executes?
We have started with WPeMatico Stats. We expect to launch it very soon. If you can't wait, leave a comment or start a support ticket 🙂
Enjoy!
Save
Save
Save
Save
Save