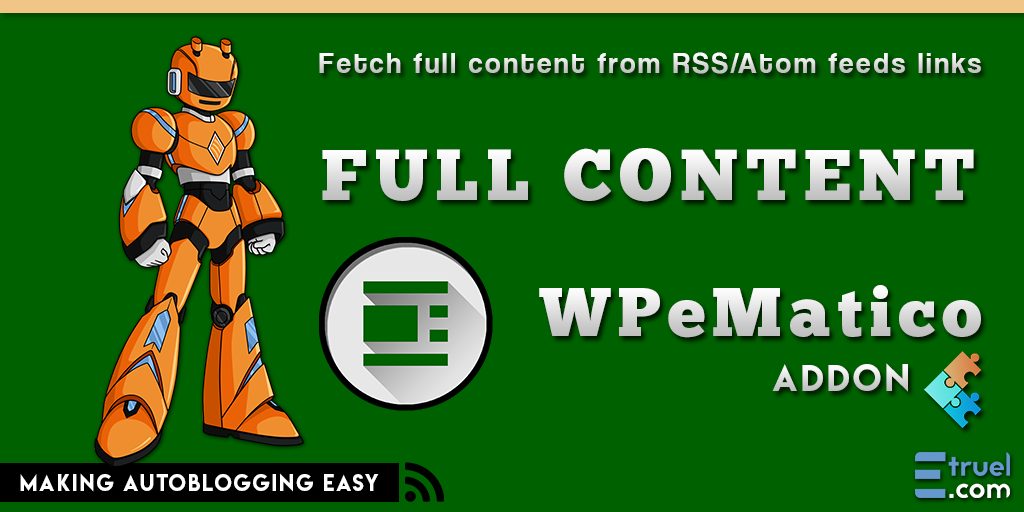 WPeMatico Full Conten extends WPeMatico with a lot of advanced functions and a lot of new features wich allows to get content, title, date, author and featured images from source site.
Why should you use Full Content addon?
WPeMatico Full Content takes the title and permalink of every feed item and scratches its web page to find the full content.
Works automatically with almost all sites, but if can't find the correct content by itself or just gets blank content, you can add the feed content or make a config file for every custom website or domain. Also if you don't have the time to do this, you can buy our service and we can make it for you. Do not need to have to pay monthly for full content. 😉
Gets the full content
This addon allows to gets the full content of the article in the source site taken from every feed item permalink.
Content form source or feed
When campaign run if gets empty full content form the source site then takes the original feed item content.
Works 95% of the websites
Works automatically with 95% of the websites, but if not, allows set up a configuration file for every domain pointing to what section of the web page must be obtained.
Reads content for multi-page articles.

Full Content searches and makes an unique content for articles divided into multiples pages. The xPath for the 'next' link must be set in config file.
Post title form source site
Allows to get the original title from source web page instead of taking it from feed items.
Post date form source site
Same as with the title, you can get the original date of the post from the source web page instead of taking it from feed items.
Post author form source site
Gets the author also from source web page to assign it to the post and optionally create it if not exist.
---
Featured image from Open Graph or Twitter Images
You can get the featured image from the source site only if they are available in Open Graph or Twitter images protocols.
Embeds from source site
Gets the embeds from youtube, dailymotion, natabanu, vimeo, euractiv, viddler, twitch, toys, facebook.com, and more.
Config File per source site
Includes a config file editor to setup exactly how and what take for the specific content of source page, you can also moves all the config files to a local folder to don't overwrite the config files when updates the plugin.
Fixes and corrects wrong HTML content
You can enable this in the txt config file, when you are getting the content through Full content feature. It's using 'Tidy' to fix the incorrect HTML code.
Warning ⚠️
Most of the sites on the Internet have copyrights on their content so it is considered illegal to reproduce it on other sites without the express consent of the author. Sometimes they give permission, but sometimes you are simply not authorized and will not be given permission to share the content. Doing so is a direct legal violation of the original site's copyright.
The user is solely responsible for the use of the software on their own website.
Use with caution and always following the copyright policies of each feed and site used.
Config Files Editor
Lets you specify exactly what is the full contents of every site of origin.
If you want to setup exactly how and what take for the specific content of source page, now you can do it from your wordpress admin from almost any webpage you want the content.
How is working?
WPeMatico Full Content has a folder inside, with configuration files for every website that it's taken full content. You can add and edit these files but if you upgrades the plugin, these files are lose or replaced again and you must re do the work.
WPeMatico TXT Editor allows you to change the configuration files to the uploads folder to keep your files and changes when you upgrade the plugin. WPeMatico will see this folder automatically after it was created and will begin to use these configuration files from your preferred websites for fetching content.
But this is not the best! Also adds a file editor that allows test the content obtained from remote domains on the fly.
You can relocate the folder of configuration files, so as not to delete them when you update WPeMatico PRO
Preview
Perform a preview of the full content that you will get for the posts, while editing the config file!
You will see how the plugin will fetch the remote site content in your posts while you are editing the config file, then you could get the content from websites that the plugin can't recognize the article content for itself.
<
EditYou can edit and add new config files for domains you want to get content if is not working very well.
PreviewJust click on Preview button and will get the content below in Visual mode (As your post will be seen) or in Text mode (as HTML code).
Help?It has the Inline Help in the WordPress style with some tips and all the commands you will need to edit the configuration files.
The Full Content addon is fully compatible with the other WPeMatico addons.
Combining its features you can get excellent results, for example:
Using it together with the Professional addon you can get the content directly from the source site and crop it if you need it, you can also get the images from the OpenGraph protocol or from the enclosure tags of the feed items, you can also use filters by keywords or author, you can also assign the author and date from the source site creating a pretty complete post automatically.
All features are working on almost all servers. Try WPeMatico FREE Version to be sure before buy.
PHP 5.6+
WordPress.
WPeMatico FREE installed and activated.
Please note and consider the following BEFORE BUY:
DON'T BUYWarranty and Disclaimer.Limitation of Liability.
For testing purposes or if you have doubts.
Once you bought you have access to download the plugin, then the money IS NOT refundable.
Read Refunds and other policies at our Terms and Conditions.
You're not paying for technical support or the program itself.
You will have access to updates for an year for single site license. Yearly renewal until cancelled.
You can see all features that you are buying at above.
We can make some tests in your website if you need to know that works.
You can ask any question by creating a ticket at Support Page.
THERE IS NOT WARRANTY THAT: (A) THE OPERATION OF THE SOFTWARE OR HARDWARE WILL BE UNINTERRUPTED OR ERROR-FREE OR THAT FUNCTIONS CONTAINED IN THE SOFTWARE WILL OPERATE IN COMBINATIONS OF SOFTWARE OR HARDWARE THAT MAY BE SELECTED FOR USE BY YOU; (B) THE SOFTWARE WILL MEET YOUR REQUIREMENTS OR EXPECTATIONS; OR (C) ANY RESULTS, OUTPUT, OR DATA PROVIDED THROUGH OR GENERATED BY THE SOFTWARE WILL BE ACCURATE, UP-TO-DATE, COMPLETE OR RELIABLE. EXCEPT AS EXPRESSLY STATED IN THIS SECTION, TO THE MAXIMUM EXTENT PERMITTED BY LAW.
I SPECIFICALLY DISCLAIMS ALL OTHER WARRANTIES, EXPRESS OR IMPLIED, ORAL OR WRITTEN, ARISING BY LAW OR OTHERWISE, RELATING TO THIS AGREEMENT AND THE SOFTWARE AND ANY SERVICES PROVIDED TO YOU, INCLUDING WITHOUT LIMITATION, ANY IMPLIED WARRANTIES OF MERCHANTABILITY, FITNESS FOR A PARTICULAR PURPOSE, TITLE AND NONINFRINGEMENT OF THIRD PARTY RIGHTS.
Copyright Infringements
The use of use WPeMatico, the Full Content add-on, and any other products or services provided by Etruel to infringe the intellectual property rights of third parties is prohibited;
Users may be liable for copyright infringement if they use WPeMatico, the Full Content add-on, and any other products or services provided by Etruel to copy, reproduce, or republish content for which they do not have a valid license.
IN NO EVENT, I OR THE SOFTWARE WILL BE LIABLE FOR ANY INDIRECT, SPECIAL, INCIDENTAL OR CONSEQUENTIAL DAMAGES, HOWEVER CAUSED, WHETHER FOR BREACH OF CONTRACT, NEGLIGENCE OR OTHERWISE, AND REGARDLESS OF WHETHER HAS BEEN ADVISED OF THE POSSIBILITY OF THOSE DAMAGES, INCLUDING WITHOUT LIMITATION, THE USE OR INABILITY TO USE THE SOFTWARE, OR ANY RESULTS OBTAINED FROM OR THROUGH THE SOFTWARE.