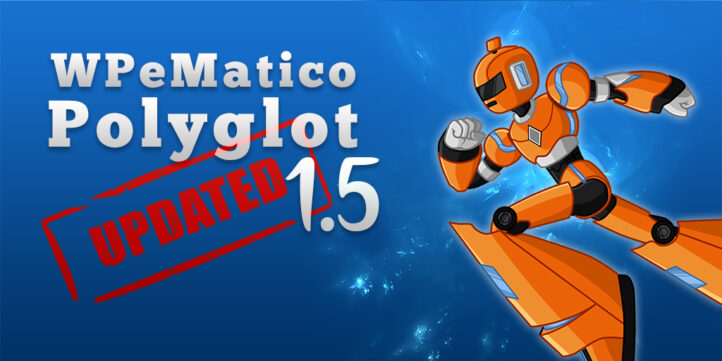 Our first update released in 2022 is WPeMatico Polyglot, this plugin that lately is having a lot of acceptance and generating several comments.
Many users are buying, commenting and asking for new features and so here we respond with some of these functionalities. 🙂
The Polyglot is an addon for WPeMatico that translates "on the fly" just before inserting posts automatically from the feeds of the created campaigns.
It is prepared to use several different translation engines, some free and also paid for those who want better features.
New features in this version include a new free translation engine!
So far we had Deepl Pro engine included through its API. But not long ago they added their free API and in this version of Polyglot we already made available this new free engine with excellent translation quality as offered by Deepl.
You can find a lot of information, features, limits and differences with the paid version on their official website.
We also made it compatible with two widely used features of WPeMatico Professional. This plugin allows you to get feed tags with embedded tags in each feed item and now Polyglot features an option in the campaign to also translate them if you wish to add them to each post in the final language.
But not only that with tags, in addition, the Autotags function (generate tags automatically from the content) that the Professional has, now the Polyglot executes it after having translated the article so they are obtained directly from the final content, thus saving queries to the translation APIs, which allows to take better advantage of the limits they usually have on the number of words or characters to translate.
And as always we are making some fixes and UI improvements here and there.
In the Settings we added an icon and moved to the right sidebar the choice of the translation engine, which allows a clearer and more orderly reading so as not to overlook it.
In the campaign we choose the alternative languages in case the main one runs out of resources or returns an empty content. There we add more options and some notices to explain the operation in cases more difficult to understand.
And we also revamped their entire product page. We hope you enjoy it! Take a look at it at https://etruel.com/downloads/wpematico-polyglot/
If you already bought it you will find the update in your WordPress plugins page… and if you don't have it yet, what are you waiting for?
If you have any questions you can ask us here. You will be very welcome!
The team behind Etruel Developments greets you and wishes you a very happy 2022!
Happy blogging!