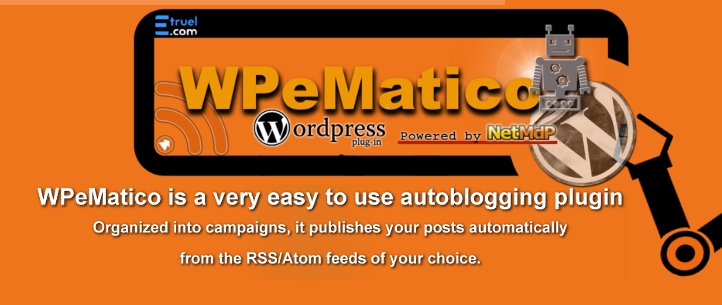 It's been a few months without news but with some updates in the middle. We are really with a lot of work.
By the other hand we've made a lot of changes, updates and so much more new things!
There are three updates of WpeMatico to talk about… we're notably improving the plugin for autoblogging… and, just to tell a few things to all of you, we made:
Added a wizard to create a campaign.  Finally we implement the tool to facilitate the work to the newbies. The wizard will pass the metaboxes one by one till finally complete all the steps and publish the campaign.  The best part is that it is useful also to modify the campaigns because it works individually in each campaign.
Added feature "Order feed items by Date before process".  It is useful to organize by date before process some feeds which came bad organized, making some items of the feed to be lose.
Two functions added for images which allows get the URL without protocol​s and for some webs most moderns that keep the complete image in the tag attribute srcset, now you will get the big image from there.
An important problem has been solved verifying SSL with simplepie, making WPeMatico can work with the HTTPS feeds.
A subscription form to our news was added in the welcome page of the plugin.
We change the Debug section Info in Settings to System Status and we improved noticeably the system info section.
We keep solving incompatibilities with third parties plugins that their codes interfere with WPematico.
Improved accuracy in duplicate checking.
The WordPress reviews are back in the Settings page.
Do you have WpeMatico in your language? Now you can help to translate it in: https://translate.wordpress.org/projects/wp-plugins/wpematico
Get it for FREE: https://wordpress.org/plugins/wpematico

We made some fixes in the CRM for WordPress, among other things the most important are:
* Fixes the current date year by default on create an event.
* Fixes permissions on showing the list of events by seller.
* Fixes deprecated functions to get current user data.
As it's moving ahead we will put it on Sale with a 50% discount for a limited time! Go for it now!
Polyglot is a great plugin to translate the posts from one original idiom to someone else, it could be the language of the same WordPress or any other selected in each WPeMatico campaign.
You get the posts from an idiom and publishes them automatically in other language in your website! It's great!
Get now the Polyglot Addon for WpeMatico in offer for a limited time! Fast!  Coupon code: [JUN1725]
NEW ADDON: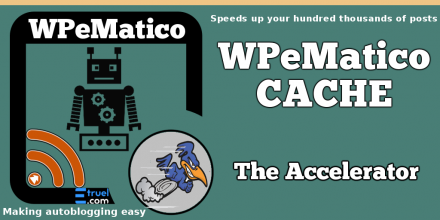 There are several cache plugins for WordPress but they really have so many options that make your head ache and there is always problems with them. Because of it, this last time we've decided to develop an easy plugin, practical and fast, with a good performance and optimized for WpeMatico, so it works extraordinarily with thousands and thousands of posts.
We proved a performance till 10 times higher than with other cache plugins.
For special cases it can be chosen each post type or individual pages which won't be included in the cache system.
It is optimized for SEO .
Not only optimizes the cache in the server, also manages the cache in the browser improving the performance in client-side and server-side.
Support HTTP and HTTPS. And also can redirect.
Option of two cache types in the site HTML static (Ultra fast) y PHP Files (Accept GET and POST params)
And other qualities that you can  I see here.
The requirements to use it are the next ones, and before you get it you need to know if your server support it:
WebServer Apache.
Módulos Apache:mod_rewrite, mod_mime, mod_deflate.
PHP superior o igual a la versión 5.3.
WordPress.
Take advantage of the release offer. Only $29. for a single website! It will last for a bit!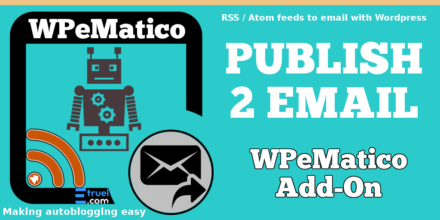 Another excellent plugin which haven't been saw so much is the addon WpeMatico publish 2 Email.
Can you imagine a website taking post from different feeds or websites and sending them as emails to different accounts? WpeMatico publish 2 Email can make this to happen and so much more. It is thinked to take each post automatically from every feed of the created campaigns and send them to an email account which will be checked for some automatic service to publish it, for example, in another WordPress, an emails list, forums or any service that allows posts or distribution by email.
This Add-on allows to use WPeMatico from a WordPress website and to send the read posts from each campaign to an email account.  Each campaign allows sending content to different email accounts.
Therefore, it can post from a unique website with WPeMatico plugin to many different WordPress websites.
Take advantage of the 25% discount code! Coupon code: [JUN1725]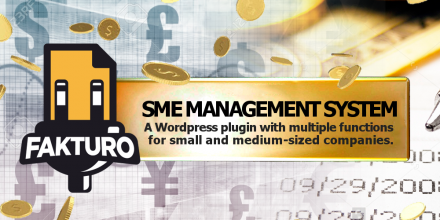 We continue with our billing and management software for WordPress.  Unless it is almost 100% functional a while ago, we are finishing the phase beta with a lot of fixes and news features.
We keep calling it "beta", but we are considering this version 0.7 as the Release Candidate 1. We have developed an amazing configuration Wizard!  This was one of the main points to consider in this version because with so many options it was necessary a guide along the system configuration process.
We also added a Reports page and the countable account by client.
We invite you to prove it and chose free this billing system launches as a WordPress plugin!
We're also finishing the new domain fakturo.org where you can watch demos, use and buy the hosting from fakturo with everything installed.
Hey! Have you seen the new design of WPeMatico.com? We have renewed a little to keep offering the best services. Find some video tutorials in different languages.  Some of them are made by us, but fortunately we find users around the world who also published tutorials about WPeMatico in YouTube. So, we try to put it together in the page dedicated to the video tutorials of WpeMatico.
Watch the Sites Showcase too!
There you will find many registered sites that use WPeMatico as content publishing strategy. This is a new free service for our users can promote their websites in our pages and make themselves known.
Do you use WPeMatico? You can publish your website with a  screenshot to link it from our page. The websites which are send can take some days till they are reviewed and if there isn't any problem and comply our internal politics they will be published.
All of this is for you! We hope you enjoy it!
Guardar
Guardar
Guardar
Guardar
Guardar
Guardar
Guardar
Guardar
Guardar
Guardar
Guardar
Guardar