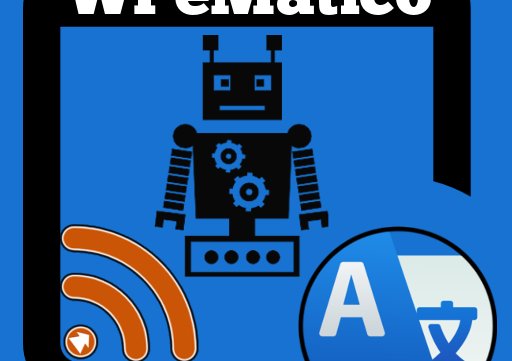 Have you ever seen a site that didn't even have an RSS, and you needed it to have one in order to read their news conveniently?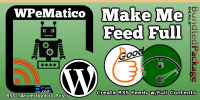 Make Me Feed Full lets you create unlimited RSS feeds of external sites to read them on your own WordPress site!
Make Me Feed Full is the combination of two add-ons for WPeMatico.
So, to do this, you will need:
A WordPress blog of your own with your domain (or ask here to let us help you).
WPeMatico: It's free, just search for it and install from your WordPress plugins panel.
WPeMatico Make Me Feed Full. This is a package that includes the following two products:
WPeMatico Make Me Feed. Add-on to create feeds of headlines with links.
WPeMatico Full Content. Add-on to obtain the complete content.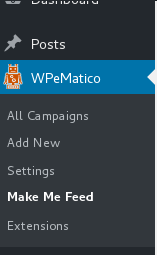 After installing and activating the two add-ons, a new item will appear in the WPeMatico menu.
There, you can create pages for feeds very easily like the WordPress does.
You can click on each extension name above to see all the individual features of each plugin.
Introduction to WPeMatico Polyglot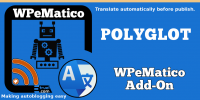 Our new Polyglot reeds the content of feeds or other sources in one language, and inserts it into your blog in another language automatically.
Of course, automatic translations aren't perfect, but it is an excellent alternative to work in multiple languages. It supports up to 107 different languages, letting you choose the source and destination language of each article read for each campaign.
It works with the free version of WPeMatico, translating the contents of the items in the feeds, but it also works with the other extensions, such as Full Content or Facebook Fetcher, translating the texts obtained from each source.
Regarding the automatic translation engines, initially we are working with three of them: the API of Google Cloud Translator and Yandex, which need you to generate an API Key to use in the plugin, and on the other hand, an integrated function to use Google Translate as long as the volume of data sent isn't too high. Although the Google Translate option is free and works very well, there could be limits imposed by Google in the future, and as some of these translation engines tend to have a cost per word, we have completely optimized the sending of words to be translated for each request.
Plus, we have left everything read to add new translation engines and the possibility of using different engines in each campaign, so that you could use some Google with some feeds and others with Yandex at the same time, on the same blog.
Take advantage of this 20% discount coupon for these 2 products!
[RELEMFPOLY] Hurry up! It is valid only for a week!
We hope you enjoy all of these updates.
Version 1.5
The best free plugin that makes automatic WordPress. Autoblogging in the blink of an eye!

Bundled Package
lets you create unlimited RSS feeds of external sites to read them on your own WordPress site.

Add-on version 1.1
Translate the posts to one of the 107 supported languages before publishes them into WordPress.